AHHHH!!!
So, as usual, I've been out of town. My pal from SPLJ4
marydotmusic spoiled me rotten while I was in Japan, and this year, my new pal's been overdosing me in goodies while I've been trallavanting Canada. I've been doing ten million things (teaching, graduation ceremonies, summer school, etc) so I've finally checked in with homebase and here are my package posts!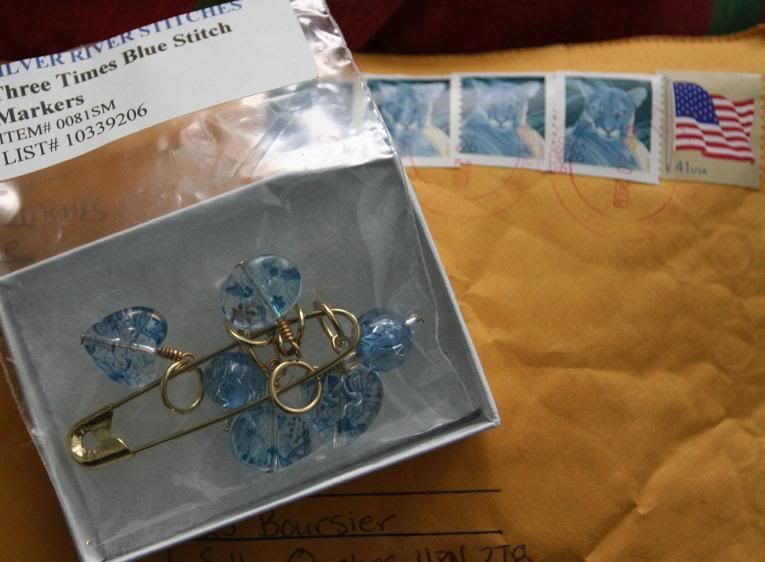 Extremely useful because I forget pattern repeats even more than I forget to post here. urgh. bad arkenholtz. I've been knitting lace for a long time but I've always been too busy to buy stitch markers, so I kept struggling with bent paper clips, hairclips, and yarn scraps. These markers make a huge difference -- they slide easily across the needles, they don't snag the yarn, and best of all, they're prettttty hahah. Very impressive to non-knitters, too :P

and, equally as useful, a Tool Tote by the Bag Smith. It's really nifty. It has tons of see through pockets so I don't have to dig around, and it's made of this thick, black canvas so I don't have to worry about getting more holes punched into the corners of my purses haha. Can't wait to take it on my next trip.


Thanks, pal!!!
Sorry for my delayed posts. You've been awesome and patient and your gifts have been so personal and useful!